Experience warmth at 3125 Pintail Lane Signal Mountain TN 37377.  You can be in a rich wood paneled den playing billiards or relax in the hot tub in the wooded back yard.  Either way you will feel cozy in this stately brick home near the cul-de-sac.  The home is located in Fox Run.  Fox Run started several decades ago and is still experiencing new home construction growth.  The tennis courts are a fun community feature not far away.
The current owners have loved this home and updated it in so many ways.  New laundry room added, new bathroom added, kitchen upgrades, bathroom upgrades, hardwood staircase and treads, new lighting throughout, deck expansion and hot tub added,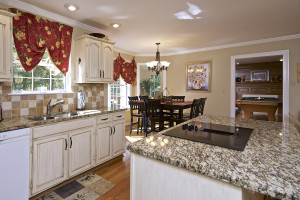 even the crawl space received a makeover with total encapsulation and de-humidifier.  You can see more photos here at Flex MLS Link .
The children are grown and time for this family to relocate and transition into another stage of life.  You will now benefit from the care they have shown this beautiful home.  Come visit 3125 Pintail Lane, Signal Mountain, TN 37377 and see how your family can experience the warmth of this home.